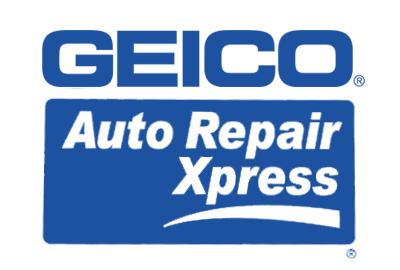 Geico Auto Repair Xpress ® at Body Shop Express
GEICO's fast and fair approach to auto repair is as simple as 1, 2, 3!
Body Shop Express is proud to be chosen for GEICO's Auto Repair Xpress program, maximizing convenience for our customers. You will receive priority treatment, including a service experience that is second to none.
STEP 1: Drop Off
A Shop Representative will meet with you at the repair facility to:
Evaluate your vehicle's damage.
Explain the repair process and answer your questions.
Arrange for you to leave your vehicle for repairs and go home in a rental vehicle*
STEP 2: Repair
As your car is being repaired, your Shop Representative will:
Facilitate the repair process directly with the shop to ensure speed and quality.
Keep you informed of your car's repair status.
Perform a pre-delivery review of the completed repairs before you pick up your car.
STEP 3: Pick Up
When your car is fully repaired, you will:
Return to the repair facility in your rental car.
Receive copies of all repair documents, including your damage estimate.
Leave with the reassurance that GEICO and the repair facility guarantee the repairs for as long as you own your vehicle.